You are here
The Beauty Sailor Launches New Range of Face Serums for All Skin Types
The Beauty Sailor Launches New Range of Face Serums for All Skin Types
We are delighted to announce the growth of our serum assortment! You can feel beautiful and secure in your own skin because our new products are created to nourish and protect all skin types. These new serums for face are a wonderful treat for your skin, a great combination of nature and science! They are mild yet efficient in addressing all of your skincare needs because they are made with the highest quality components. They are designed with premium components that are kind to the skin while still working well to address a range of skincare issues. Whether you want to hydrate, brighten, decrease the appearance of wrinkles, or want to address any other skin related issue, The Beauty Sailor's face serums have got you covered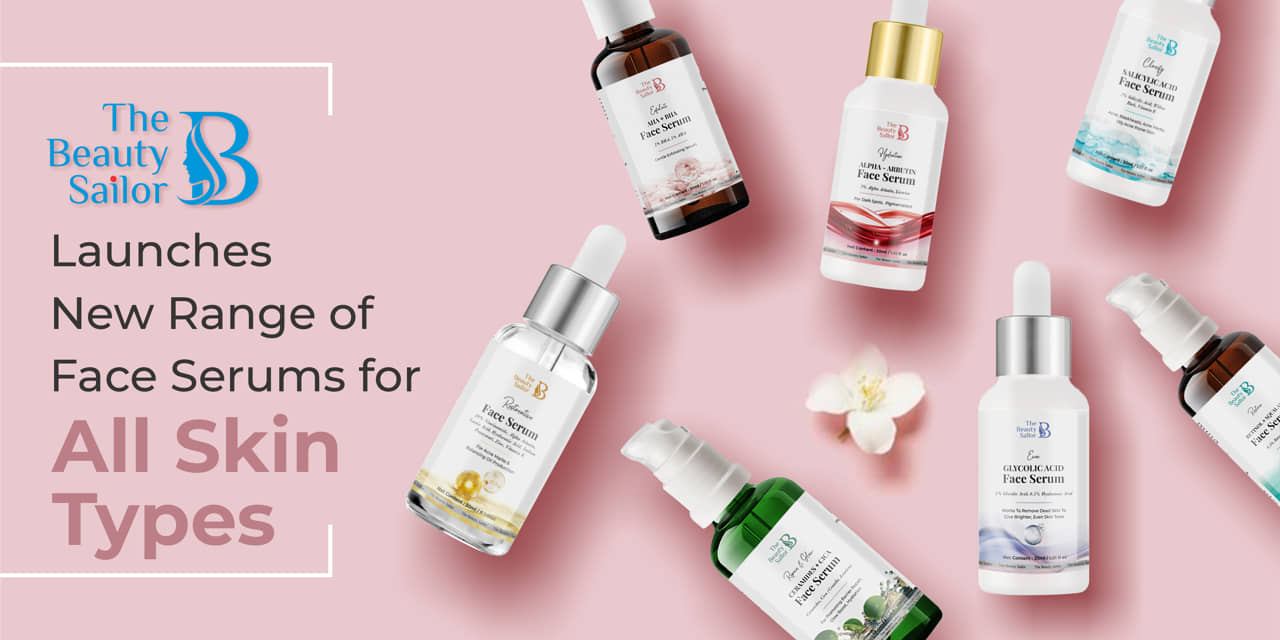 The following Face Serums are currently on the list:
1. 10% NIACINAMIDE FACE SERUM: It reduces the skin's oil production and aids in the fight against acne. Your skin receives a quick boost of renewal from it, which also helps the skin radiate youth, health, and radiance. It is an ideal face serum for dry skin. 
Key ingredients:
● Niacinamide - It strengthens the skin's immunity and nourishes and shields the skin's cells. It controls sebum synthesis and prevents the skin from becoming overly greasy.
● Lactic acid - Aids in dead skin cell shedding. Rough and scaly skin is softened and smoothed by it. It enhances the skin's general texture.
2. 2% SALICYLIC ACID SERUM: With full responsibility for protecting your skin, salicylic face serum is ideal for acne scars, and whiteheads and blackheads. The serum, infused with gentle yet efficient chemicals, reaches deep beneath your skin and clears pores, resulting in healthy, clear skin.
Key ingredients:
● Salicylic acid - reduces irritation and redness, exfoliates the skin, unclogs pores, and removes dead skin cells.
● willow bark - Its abundance of polyphenols helps the skin's ability to retain water. It works wonders in the treatment of acne.
3. 2% ALPHA ARBUTIN FACE SERUM: This face serum works best for dark spots reduction, freckles, and blemishes, resulting in more even-toned and radiant skin. It is simple to put on the serum because of its lightweight, non-greasy nature. It simultaneously provides nutrients and treats tenacious skin problems.
Key ingredients:
● Alpha Arbutin - Alpha Arbutin is a mild hydroquinone that naturally lightens skin and fades acne scars and discoloration. It lessens UV-induced pigmentation and aids in preventing dark spots and sunburn.
● Tocopherol - The function of the skin's barrier is improved by tocopherol. With repeated usage, it increases the skin's capacity to bind water.
4. HYALURONIC ACID FACE SERUM: It lessens dryness and keeps the skin moisturized. This hyaluronic face serum is your skin's best friend when it comes to enhancing skin textures. This face serum is kind to the skin and is good for sensitive skin as it does not irritate it because it is toxin-free.
Key ingredients:
● Hyaluronic Acid - It is well known for having anti-aging qualities. It aids in skin stretching, which causes wrinkles and fine lines to disappear.
● Vitamin E - It serves as a free radical scavenger and guards the skin from harmful sun damaging effects. It improves moisturization even more.
5. RENEWING UNDER EYE SERUM: It aids in eliminating persistent dark circles. The serum gives the under-eye area a revitalized sheen while calming and soothing it.
Key ingredients:
● Coffee Extract - Coffee delays the signs of skin ageing. It decreases eye area irritation.
● Pro-vitamin B5 - It moisturizes the skin and defends it from numerous stresses.
6. 0.3% RETINOL + SQUALANE FACE SERUM: The face serum helps restore the skin's inherent radiance and stimulates skin cell turnover.
Key ingredients:
● Squalane - It works as an antioxidant to reduce wrinkles and fine lines. It softens and helps to hydrate the skin.
● Retinol - Vitamin A-rich retinol is well known for its ability to brighten the skin. It enhances skin health and makes the outer layer of the skin appear cleaner and noticeably brighter.
7. EVEN GLYCOLIC ACID SERUM: With this serum, your delicate skin is exfoliated gently. It is one of the best face serum for oily skin. It works to reveal a brighter layer of skin by eliminating the layer of dead skin cells.
Key ingredients:
● Glycolic Acid - An AHA called glycolic acid is used to treat a range of skin issues, including hyperpigmentation and ageing symptoms.
● Aloe Vera - One of the most well-known components in skincare is aloe vera. The danger of infections and acne is decreased while the skin is moisturized.
These serums can be purchased through the Beauty Sailor's website as well as other online retailers like Amazon, Myntra, Nykaa and Flipkart. These serums tend to be highly effective and have been created more specifically to address the requirements of all types of skin.
In spite of the fact that all face serums have undergone testing and have been found to be safe for both men and women, it is nevertheless recommended to conduct a small patch test before using any product.