You are here
This Children's Day, BabyChakra & The Moms Co launch #MomsTalk - India's first nationwide mom community to support the children of C.R.Y and create a support network for all moms
This Children's Day, BabyChakra & The Moms Co launch #MomsTalk - India's first nationwide mom community to support the children of C.R.Y and create a support network for all moms
Both BabyChakra and The Moms Co will be donating a minimum of Rs 1 Lac to C.R.Y and will be donating an additional Rs 100 for every mention on social media about the event using hashtags BBCXCRY to lend further support.  
Mumbai, 14th November 2022:  India's leading parenting platform and DTC brand BabyChakra and The Moms Co, a leading mother and babycare brand came together to celebrate Children's Day and launch India's first community meetup series exclusively for moms called 'MomsTalk' -  a nationwide support group for mothers that brings moms from all walks of life to come together, to inspire each other, have frank open chats on motherhood and beyond and through shared experiences support the next generation of mothers & children.
Each support group meetup will also support a cause dear to the hearts of the community members. The current event was launched to coincide with Children's Day and was conducted to support the children of CRY India. The event was co-hosted by both BabyChakra and The Moms Co, in collaboration with India's largest creator platform, the Good Creator Co and Charity partner C.R.Y.
The event took place at the MyGlamm store in Juhu, Mumbai on 12th November. The 'MomsTalk' session featured a stellar panel - Actor, Eco Investor, Goodwill Ambassador UNEP  Dia Mirza, TV Actor Nisha Rawal alongside Dr. Tanushree Pandey, Designer Simone Khambatta, Entrepreneur Tejal Bajla and Naiyya Saggi, Co-founder of The Good Glamm Group & Founder & CEO, BabyChakra where they touched upon the phases of motherhood, childhood and the need to support underprivileged children. It was moderated by Barkha Chawla, community manager Parenting Pod at BabyChakra.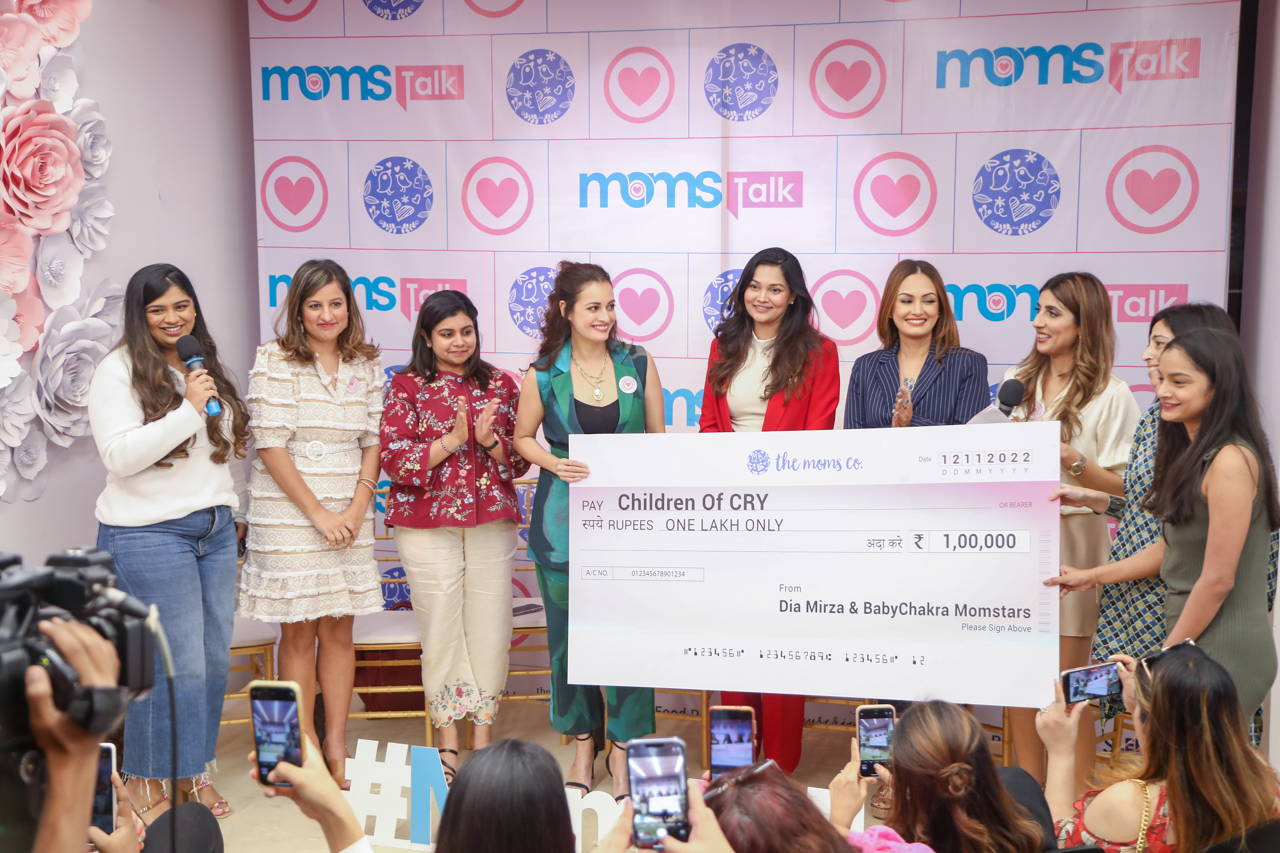 At the core of the event was the association with C.R.Y, where BabyChakra and The Moms Co will be donating a minimum of INR 1,00,000 to C.R.Y. Additionally, both parties pledged to donate INR 100 for every mention on social media about the event using the hashtag BBCXCRY in honour of Children's Day.
Commenting on the event,  Naiyya Saggi, Co-founder, The Good Glamm Group and Founder & CEO, BabyChakra said, "As mothers, we often find ourselves questioning our choices for ourselves and our children. It is only when we interact with other mothers, we realise that we all are trying to do best for our families and ourselves in the ways we know. We are super excited to share our initiative "MomsTalk', a supportive space for all mothers to talk about not just the joys of motherhood but also all the attempts to reclaim self, manage the stresses of raising children in today's world, and address the questions that come along with it. We are marking the launch of #MomsTalk on Children's Day by continuing our support to the children of  C.R.Y and contributing to keeping our children safe, healthy, fed and educated."
Sukhleen Aneja, CEO of FMCG & Beauty Brands The Good Glamm Group, says, "With our innovative range of products, what we do need is to build communities that resonate with the brand, and that's where #MomsTalk, a BabyChakra and The Moms Co community initiative , come into the picture. India's first community meet-up series for moms and having such a strong social purpose will surely help the brands grow holistically. With The Moms Co and BabyChakra, we wish to inspire communities to experience clinically proven toxin-free products for the mum and baby.
Adding to this, Malika Sadani, Founder & CEO, The Moms Co shared, "It is important to feel safe while sharing struggles faced without the fear of being judged. It also helps others when they know that they aren't the only ones facing similar challenges. Through MomsTalk, we want to establish that we are creating a safe space for all moms. The Moms Co has always been a strong advocate for 'Love without compromise', and a safe space to share struggles and triumphs through the journey of motherhood is extremely important to achieve that."
Kreeanne Rabadi, Regional Director, CRY - West commented, "We are very happy to associate with The Moms Co, BabyChakra and the Good Glamm Group for the important initiative of mothers coming together to support the children of CRY. It is special to see their property MomsTalk, India's first community meet-up series exclusively for moms, also have such a strong social purpose to it.  It is wonderful when startups have such a strong social mission rooted into the work they do and support causes like ours."
BabyChakra (part of the Good Glamm Group) recently announced its partnership with C.R.Y. where it supports child health, nutrition, education, and safety by giving a part of its proceeds to C.R.Y. Throughout this festive season, a part of every purchase via the BabyChakra App & Website goes to supporting C.R.Y. The Moms Co, through #MomsTalks joins hands in supporting this noble cause and committing to also support CRY through this series of community meetups.
About BabyChakra-
Founded by Naiyya Saggi, BabyChakra is India's most trusted parenting platform and leading DTC brand. The platform reaches 39 million moms and 10,000 doctors from across India. The Website (www.babychakra.com) and App (https://play.google.com/store/apps/details?id=app.babychakra.babychakra)  provides expecting & new parents with relevant information via intelligent communities & personalized content. It also creates a unique care network through access to trusted doctors and experts. BabyChakra is co-creating baby products with Mom's and Doctors on its platform.
In August 2021, BabyChakra was acquired by MyGlamm (Parent Company - The Good Glamm Group) to build India's largest parenting platform. Since then, BabyChakra has been working on this shared vision and made a bold move with its first acquisition in March 2022 with Tinystep. This strategic move was made with the aim to expand BabyChakra's regional footprint across 9 new languages in India. In mid 2022, BabyChakra launched India's 1st Baby Care Range Free From Artificial Fragrances & also Phenoxyethanol. The entire range is made with certified Organic Actives that are clinically tested to be effective, nutrient dense and certified safe for even highly sensitive skin. All products are uniquely co-created with India's largest community of Mothers & Paediatricians.
BabyChakra is a part of digital FMCG conglomerate, The Good Glamm Group of which Naiyya is also the co-founder o along with Group Founder & CEO, Darpan Sanghvi and Co-founder, Priyanka Gill.