You are here
Great Indian Restaurant Festival offers Flat 50% off at 5000+ Restaurants
Date:
Wednesday, 12 April 2023

to

Sunday, 4 June 2023
Swiggy Dineout Launches Great Indian Restaurant Festival (GIRF) with Flat 50% off at 5000+ Restaurants
7th edition of the Great Indian Restaurant Festival (GIRF) goes live for the first time on Swiggy app starting 12th April
Across 5000+ restaurants in 34 cities
Flat 50% off on dining bills; Additional 15% savings with HDFC Bank Credit Cards
New Delhi, April 13, 2023 –  Swiggy, India's leading online food delivery platform, has announced the launch of Dineout's flagship Great Indian Restaurant Festival (GIRF) for the first time on their app via Swiggy Dineout, starting from 12th April until 4th June 2023. In the much-awaited 7th edition of the festival, users of Swiggy Dineout can avail Flat 50% off deals at over 5000+ restaurants across 34 cities in India. Users can save up to 15% more (over and above flat 50% off) with HDFC bank credit cards while dining at their favourite restaurants during the festival. This year's GIRF is set to be the biggest yet, with a larger platform and user base of Swiggy, 10 new cities and greater savings for users than ever before, making it a can't-miss event for food lovers across India.
In order to give foodies the chance to dine out at the best restaurants nationwide, Swiggy dineout has partnered with some of the biggest participating restaurants like Marriott, Pullman, Mainland China, Flurys, Tacobell and Ohri's. During GIRF, Swiggy will be issuing exclusive limited deals on their app, which can be redeemed at participating restaurants. With GIRF, customers can indulge in their favourite cuisines and explore new and unique dining experiences at a discounted price. 
"As we launch the Great Indian Restaurant Festival on the Swiggy app for the first time, I am thrilled to announce that we are opening up a whole new world of dining experiences for our users. This collaborative effort will help them to discover unique culinary gems while supporting the restaurant industry as a whole. At Swiggy, we are committed to promoting local businesses and delivering unparalleled convenience to our customers, and this festival is a testament to that." said Mr. Ankit Mehrotra, Co-founder & VP, Swiggy Dineout.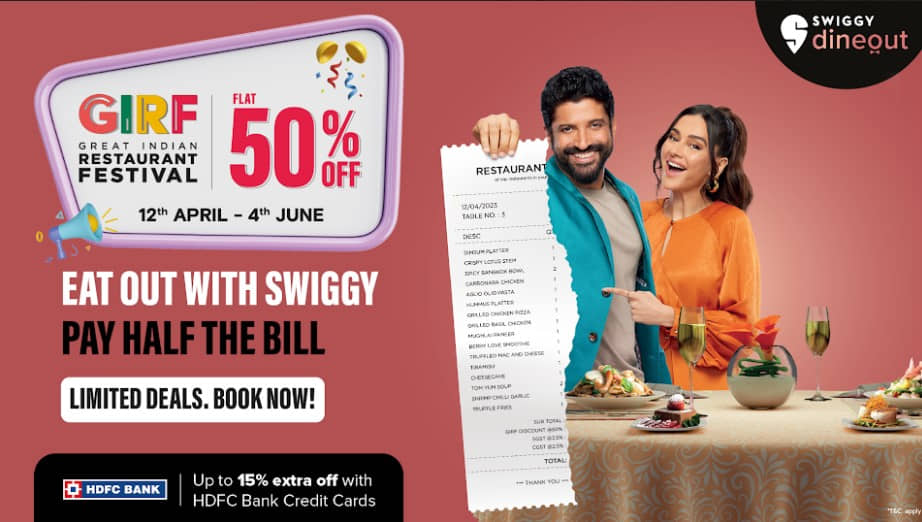 Today, Swiggy Dineout has more than 21,000 + restaurant partners across 34 cities, making it a top platform for dining out in India. Swiggy Dineout features fine dining, lounge bars, pubs, cafes, quick-service restaurants, and more. With added benefits for Swiggy One members, users can now make the most of delectable bargains and discounts.
As part of the festival, Swiggy Dineout has released 3 brand films featuring popular Bollywood actors Farhan Akhtar and Shibani Dandekar-Akhtar, promoting users to book their deals early before they are sold out at their favorite restaurants.
Featured Deals in your city View All
Deal Description
Great Indian Restaurant Festival offers Flat 50% off at 5000+ Restaurants


Wednesday, 12 April 2023

to

Sunday, 4 June 2023

Futureworld x Fitness First - 7 Days Guest Pass


Thursday, 6 April 2023

A Christmas Feast The Italian Way at Caffe Allora


Tuesday, 20 December 2022

to

Saturday, 31 December 2022

Celebrate Your Freedom This 75th Independence Day with SMAAASH


Thursday, 11 August 2022

to

Monday, 15 August 2022

Strike the mid-week stress with ladies' night at Smaaash


Wednesday, 22 June 2022

UNLIMITED - Red Alert Sale - Flat 50% off


Thursday, 9 June 2022

to

Sunday, 26 June 2022

IPL Fever hits Smaaash, as it Introduces Exciting Offers


Friday, 13 May 2022

to

Thursday, 30 June 2022

Forever 21 Flat 50% off Sale - Exclusively In Stores


Saturday, 14 May 2022

to

Sunday, 15 May 2022

China Bistro - IPL Offers


Saturday, 23 April 2022

Place an order at Taco Bell for a chance to Win the Xbox Series S & More


Monday, 4 April 2022

to

Sunday, 1 May 2022